Chapel Hill Art
Starting in May, Foster's Market Chapel Hill will host a rotating series of art featuring works for sale from local, state, and national artists. Joan VanderMeer, a painter with roots in Chapel Hill, will showcase her colorful paintings, many of which feature cows, chickens, hens and dogs, from May 5-Aug. 4 in an exhibit titled, "Food and Art: A Perfect Pairing."
Chapel Hill Farm Dinner
Thursday, May 16th, 2013
Appetizers will be passed at 6:30 -other courses to follow
$25 per guest with an optional $12 Wine Pairing
Please make Reservations by Tuesday, May 14th, by calling: (919) 967-3663
Featured Farm
Sunset Farms
First Course
Celebrity Dairy Chevre Crostini with Fig Balsamic Compote
Second Course
Sweet Tea soaked Fried Chicken with a Honey Bourbon Glaze
Twice Baked Sweet Potatoes
Smoked Ham Hock Braised Greens
Third Course
Angel Food Cake with Strawberries and Whipped Cream
Chapel Hill Entree Nights
Friday Night: Burger Night
Foster's Market Tailgating Pack!
2 lbs. of Buttermilk Fried Chicken Tenders
1 lb. of Fresh Fruit Salad
1 pt. Hummus
1 pt. of Pimento Cheese
Pita Chips & Crostini
1 lb. of Pasta Salad
Assorted Cookies
Sweet Tea or Lemonade
Plates, Napkins & Utensils
All packaged in a re-usable Foster's tote bag!
Only $50!
Call 919.489.4114 to place your order in Durham, or 919.967.4383 to place your order in Chapel Hill, and please give us a 24 hour notice.
Want to have a private party at Foster's?
Contact us to book either of our restaurants for private events! We can provide everything you'll need, from servers to beer and wine, for any special event. Call 919-967-4383 to book our Chapel Hill location or 919-489-4114 to book our Durham location.
Photos from private events at our Chapel Hill location!
Photos from Summer of 2011 Farm Dinners at our Durham location!
Folks getting to know one another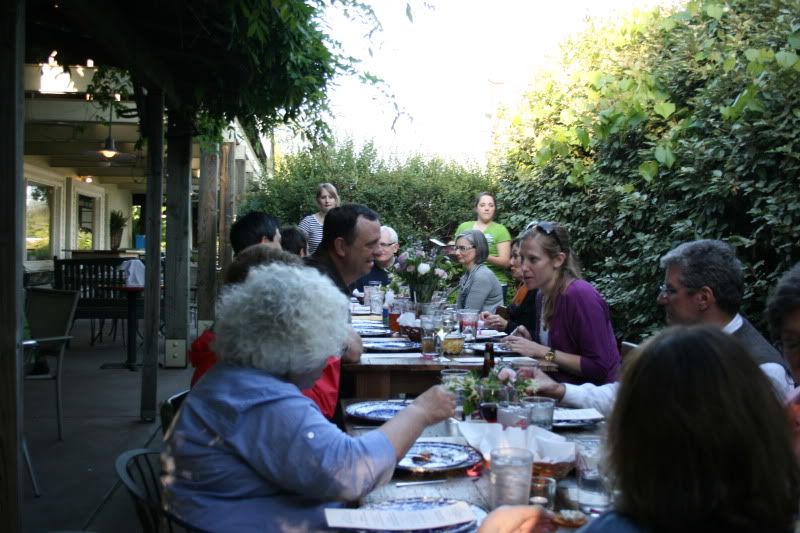 Just before the meal begins

Fried Chicken from Rainbow Meadows (Snow Hill, NC), White Sweet Potato Hash & Purple Asparagus from Tart Farms (Benson, NC)

Foster's Pound Cake with strawberries from Lyon Farm (Creedmoor, NC)